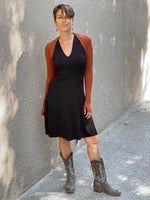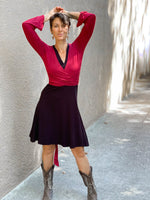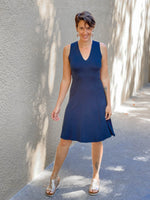 Layering Midi Dress
Our Layering Midi Dress is cut just above the knee. We shortened our classic long  Layering Maxi Dress for those hot summer nights. It has the same v-neckline and detailed stitching, creating a flattering and flirty silhouette. Designed to be worn with our shrugs and wraps. We also love it with tights and boots for the fall/winter.
Colors
Available in these jewel-tone and classic colors:
Black
Cosmo
Jam
Navy
Teal
Size Suggestions:

Learn More
Are you interested in learning more about our plant-based fabrics made in small batches and our jewel-tone hues for all seasons? Or how to care for our fabrics to increase longevity? Find more information here.