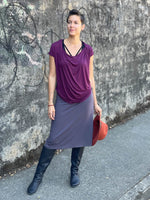 A-Line Midi Skirt
This classic A-Line Midi Skirt is made from a plant-based, stretchy rayon jersey. It easily transitions through all of the seasons. Wear it with sandals in the summer or layered with boots during the winter. The thin elastic waistband is comfortable and fits flat for easy layering.

Product Features
Plant-based
Stretchy
All-season
Great for layering
Super soft
Colors
Available in these jewel-tone colors:
Size Suggestions

Learn More
Are you interested in learning more about our plant-based fabrics made in small batches and our jewel-tone hues for all seasons? Or how to care for our fabrics to increase longevity? Find more information here.