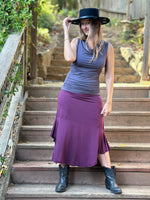 Asymmetrical Convertible Skirt
Convertible Asymmetrical Midi Skirt
This stunning skirt is the perfect two-in-one essential. Convert it from an asymmetrical skirt to a strapless midi dress with a soft elastic waistband. The flowy silhouette is lightweight and immediately resort-ready with heels, flip-flops, or boots.
Colors
Available in these jewel-tone colors:
Teal

Navy

Jam

Black

Copper

Moss
Size Suggestions
Learn More
Are you interested in learning more about our plant-based fabrics made in small batches and our jewel-tone hues for all seasons? Or how to care for our fabrics to increase longevity? Find more information here.