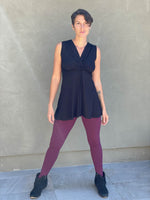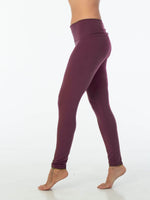 Bamboo Pocket Leggings
Our Bamboo Pocket Leggings are made from our supportive, stretchy, thermo-regulating, bamboo spandex. Wear the flat-fit waistband up or down.
These full-length bamboo leggings are super comfy to layer with. The side pocket is deep enough to fit your phone. The durable bamboo fabric is an all-season weight that can be layered under a skirt or dress for colder weather.  
Shop more of our eco-friendly women's bamboo clothing here.
Colors
These pocket bamboo leggings come in these jewel-tone and classic colors:
 Size Suggestions:

Learn More
Want to learn more about our plant-based fabrics made in small batches and how best to care for them? Find more information here.