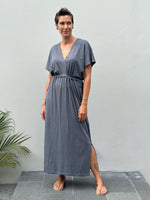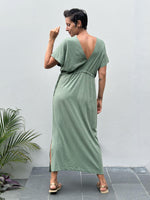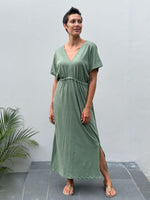 Cinch Dress
Our resort-ready CInch Dress. is made from a soft pre-washed 100% cotton jersey. that's ideal for warmer climates. It slips on easy and features a deep v-neckline. The relaxed fit and adjustable drawstring waistband provide a flattering silhouette that can be dressed up or down. For a casual look, pair it with sandals or sneakers and a denim jacket. For a more dressy occasion, pair it with heels or boots and a statement necklace.
We recommend hang-drying our 100% cotton.
Features:
Soft, breathable 100% cotton jersey
Relaxed fit
Side slit
Adjustable drawstring waistband

V-neckline
Available in a muted colorful palette
Benefits:
Comfortable and soft
Perfect for hot climates
Flattering silhouette
Versatile and lightweight for travel
Colors:

Pacific
Carbon
Camel
Black
Mangosteen
Matcha
Size Suggestions:

Learn More
Are you interested in learning more about our plant-based fabrics made in small batches and our jewel-tone hues for all seasons? Or how to care for our fabrics to increase longevity? Find more information here.